Digital Nomad Visa in Brazil

The Digital Nomad Visa in Brazil is one of the best immigration visas in the country, being ideal for remote workers and digital nomads. If your primary income comes from abroad, you can stay in Brazil working remotely from a beach, the rainforest, or anywhere you choose.
A Digital Nomad Visa is a unique temporary residency visa designed for individuals working remotely as they travel around the world. The rise of digital nomads has been remarkable in the last few years, thanks to the technological leaps that made remote work possible. In response to this evolving trend, Brazil started offering its digital nomad visas in 2022.
Most of our clients want to stay longer than the usual 90 days allowed. By securing the Brazil Digital Nomad Visa they can come into Brazil and leave as they please with no strings attached. To make this visa even better, the requirements are relatively easy to meet. Additionally, although time-consuming, the approval is virtually guaranteed as long as you meet the stated requirements. We have applied on behalf of dozens of individuals from all over the world with a 100% rate of approval.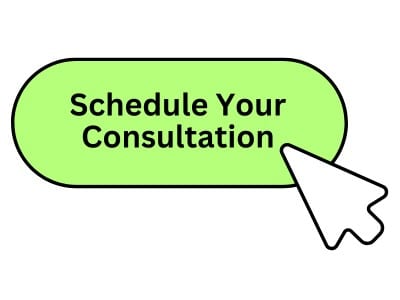 Living Digital Nomadism in Brazil

The rising popularity of digital nomadism, a lifestyle based on the capacity to work remotely through technology, finds the perfect destination in Brazil. This culturally diverse country, known for its stunning beaches and affordable cost of living, offers the best deal possible for digital nomads.
Being a digital nomad in Brazil opens the door to immersing yourself in a dynamic culture. Brazil is a cultural melting pot of indigenous, African, and European influences. For digital nomads, this means the chance to establish temporary residence in Brazil, participate in the nation's celebrated festivals, like the world-famous Carnival, and enjoy the best beaches in the world.
Affordability is another compelling reason to consider Brazil as a digital nomad. The cost of living here stands relatively lower when compared to other nations. Expenses for accommodation, meals, and transportation typically cost less, making it an appealing choice for digital nomads.
In a nutshell, Brazil attracts digital nomads with its amalgamation of diverse cultures, mesmerizing beaches, and affordability, enhancing its appeal as an ideal digital nomad destination. It is not by chance that many of these professionals will later establish permanent residence in the country!
Digital Nomad Visa in Brazil




How To Get Started
[email protected]
(214) 432-8100
+55-21-2018-1225
#1  Contact us to get a free quote, or
#2 Schedule a Consultation now.
Why Choosing Brazil as a Digital Nomad?

Ok, we may be biased – don't forget we are Brazilians! But, here are some of the reasons why you should choose Brazil over other countries when planning for your next digital nomad stop:
Diverse Culture: Brazil is known for its vibrant culture, a mix of indigenous, African, and European influences. It offers a variety of festivals, traditions, and events that can make the experience of living in Brazil very rich and diverse.
Natural Beauty: Brazil is known for its beautiful beaches, lush rainforests, and iconic landmarks such as the Iguaçu Falls and the Christ the Redeemer statue in Rio de Janeiro.
Climate: Brazil has a tropical climate, which means the weather is warm and pleasant all year round. This can make living in Brazil very comfortable, especially for those who enjoy outdoor activities.
Cost of Living: The cost of living in Brazil is relatively low compared to other countries, which makes it an attractive destination for those looking to live in an affordable country.
Business opportunities: Brazil is the 9th largest economy in the world and has been growing in recent years, providing opportunities for business and investments.
Quality of life: Brazil has a high quality of life and is known for its friendly people, delicious food, and vibrant nightlife.
Education: Brazil has a strong education system, with various universities and colleges offering quality education.
Of course, living in any country has its own immigration challenges and difficulties, and it is important to research and consider all aspects of a country before deciding to live in another country.
Digital Nomad Visa Requirements

A) Document Requirements
The main documents required for the Brazil Digital Nomad Visa by the Brazil immigration are:
A work contract between you and a foreign employer
Valid passport
Passport-sized photographs
Criminal records
Birth certificate with apostille and sworn translation*
Proof of financial capability
Bank statement
Health Insurance (

not

travel insurance)
Declarations
Visa application
Proof of payment for the visa fee
* If your passport already has both parents' full names, you don't need to present the birth certificate.
** In countries like the UAE, where no apostille exists, you must take the documents to a Brazilian consulate or embassy for authentication.
*** These two requirements in bold are the top ones regarding reasons to have your application denied!
B) Formal Requirements
Income or savings: Applicants should be paid abroad at least USD1,500 per month or be able to demonstrate at least USD18,000 in their bank account.
Criminal records: The applicant should have no serious or concerning criminal records.
Source of income abroad: Work remotely for a foreign employer or have company customers abroad.
Note: You don't need to be working for an employer formally. Working as a contractor or freelancer could qualify as long as you have a contract to show such a relationship to the immigration analyst.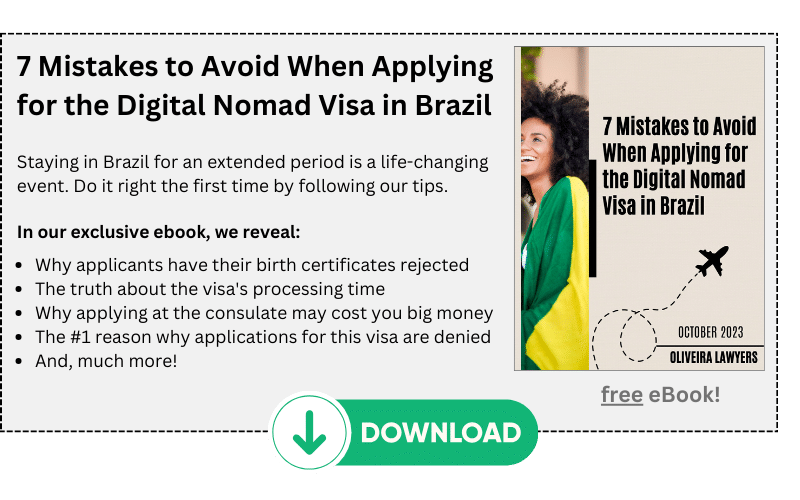 Digital Nomad Visa Processing Time

In our experience, the process takes well over a month. In addition to the processing time by the national immigration authority, you will need to provide some documents that may need a legalization process known as apostille in addition to translation to Portuguese.
The actual reviewing period by Brazilian immigration, once you have every document ready and your application has already been submitted, is approximately 30 days.
After Brazilian immigration reviews your application, they may ask for additional documents, adding more time to the waiting.
Visa Application Costs

Visa Fee
The visa fee will vary depending on whether you apply abroad or in Brazil. The fee abroad will range from USD100 to USD300, depending on the country where the Brazilian embassy or consulate is located. The visa fee while applying in Brazil is under USD40 at this time.
Professional Service
The cost to advise the applicant on the application process can vary a lot. You might find some paralegals in Brazil who will offer to help you for a small fee. But, you should rely only on lawyers officially allowed to practice law in Brazil. This ensures your private information stays safe and you get the help you need.
Hiring an official immigration lawyer can speed up your application process and save you money by ensuring your paperwork is done right the first time, according to the rules of your home country and Brazil.
Document Costs
The two main document costs will be getting an apostille for your birth certificate and translating your documents into Portuguese when applying in Brazil.
While the apostilled birth certificate must be sworn translated, a regular translator may translate all other documents.
Digital Nomad Visa in Brazil




How To Get Started
[email protected]
(214) 432-8100
+55-21-2018-1225
#1  Contact us to get a free quote, or
#2 Schedule a Consultation now.
Where to Apply
Eligible foreign citizens may apply for the Brazil Digital Nomad Visa from abroad or while in Brazil.
A) While in Brazil
Applicants may apply for the Digital Nomad Visa while staying in Brazil. Many foreign citizens will contact our office when approaching the limit of 90 days allowed for them to stay in the country. The application in Brazil is made via the MigranteWeb system, a platform tailored to immigration lawyers and professionals. Although people may theoretically self-apply using this system, we recommend hiring a professional immigration attorney or law firm to do it right the first time and avoid denial. 
Advantages of Applying in Brazil
We can apply on your behalf so you can have better use of your time.
You won't need to obtain an expensive health insurance policy valid for a year.
You won't need to handle scheduling and communication with a consulate abroad which is usually time-consuming and full of bureaucracy. 
You can continue staying in the country.
B) From Abroad
Applicants can also apply in one of the many Brazilian consulates around the world. Here is a complete list of the consulates available at this time (right-click and translate to English using Chrome) so you can check how convenient it would be to apply in your home country.
Consulates have the discretion to decide how to enforce the visa requirements. Some consulates will allow an applicant to apply by mail, while others will require an in-person visit by the applicant. Most consulates have a specific area for the Digital Nomad Visa with some useful information. Here you can see the Brazil Digital Nomad Visa page from the Consulate of Brazil in New York.
Digital Nomad Visa Top 5 Benefits

1. Extended Allowed Stay
The Digital Nomad Visa sets an initial one-year period of residence in Brazil, which may be renewed for another year. Other visas, such as business and tourist visas, will allow for just 90 days renewable for an additional 90-day period. Staying in the country for longer periods is the main goal of a visa for digital nomads.
2. The Coveted Brazilian ID Card
The nomad residence permit comes in the form of a Brazilian ID. Some of the most essential services in Brazil will not be available to you unless you have a Brazilian ID. Passports are rarely accepted for services such as banking accounts, electricity, water, etc. The so-called CRNM is the Brazilian ID Card available to foreign citizens. It is accepted virtually everywhere and will open a new world of possibilities for foreign citizens living in Brazil. Curiously, some of our clients will apply for the Digital Nomad Visa for the single purpose of being able to open a bank account in Brazil.
3. Allows You to Bring a Cargo Container from Abroad
It may sound silly to bring stuff from abroad, considering you will live in Brazil for just a few years. However, this may be a great idea for those considering living longer in Brazil. Furniture, appliances, and all goods, in general, are usually of lower quality in Brazil despite costing more. Customs will not allow Brazilians to bring such goods from abroad without hurting them with heavy taxes that will make importing unfeasible.
However, foreign citizens coming to live in Brazil will have an opportunity to bring with them (or to have a container sent by cargo) quality furniture, appliances, and goods at much lower prices (particularly if you are coming from the US).
4. Multiple Countries in One
Brazil has continental dimensions. As such, one will find places so distinctive that they look like different countries. Amazon, Northeast, Rio de Janeiro, Sao Paulo, the South, you name it. They are all located in Brazil, but those who have been there will agree that these places offer completely different experiences to foreign citizens living there. In this sense, the Brazil Digital Nomad Visa will offer something like few other countries may offer.
5. Low Cost of Living
Digital Nomads from the US and Europe will enjoy a much higher purchase power than back home. In Fortaleza, for instance, a fresh coconut cracked open in front of you will cost R$ 4,00 (less than a dollar), even at touristic locations. Meals can be bought for R$ 30,00 (about six dollars) in some locations, and rental of rollerblades or bicycles will cost R$10,00 per hour (about two dollars).
Cities such as Rio de Janeiro and Sao Paulo will have a higher cost of living, but you can still see the higher purchase power in play.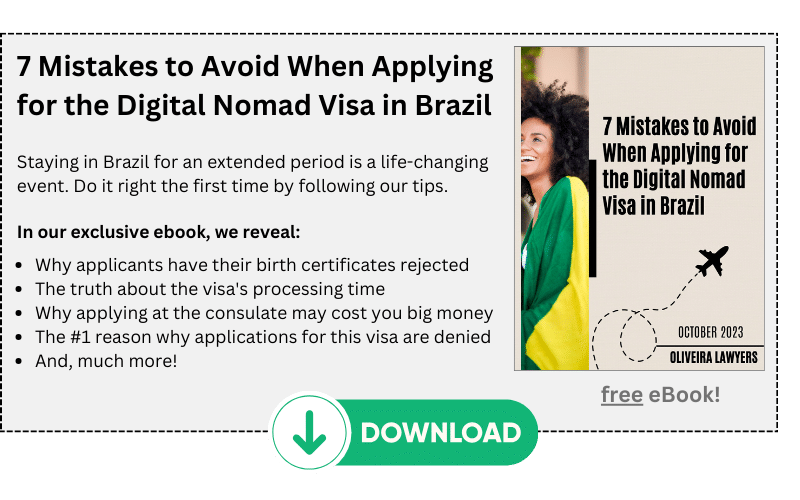 What to Do Next – Document Checklist
Your next step toward securing the Digital Nomad Visa in Brazil is securing the many documents required by Brazilian immigration.  Note that the documents required when applying via a consulate are not the same you will need to present when applying in Brazil. Additionally, documents used in Brazil will require translation, while consulates may accept documents in the same language of the country where they sit.
Want our Brazilian immigration attorneys to help you instead? We are one of the top immigration law firms in Brazil. Contact us now to get started!
Our visual checklist will help you understand the distinctions and gather the documents needed.

Digital Nomad Visa YouTube Videos
1. Top 3 Advantages of Applying in Brazil
2. Top 3 Advantages of Applying from Abroad
3. Pros and Cons of the Digital Nomad Visa Brazil
4. Ultimate FAQ Digital Nomad Visa Brazil
5. Why Hiring a Lawyer to Apply for the Brazil Digital Nomad Visa
6. Pitfalls of Applying to the Digital Nomad Visa by Yourself
Common Questions

1. Do I need to leave the country to apply for the Digital Nomad Visa in Brazil?
No, you don't need to. You can apply while in Brazil through an online immigration system from the Brazilian Government. We do not recommend applicants apply by themselves as mistakes can result in their applications being denied.
2. When should I apply for the Digital Nomad Visa in Brazil?
We recommend that you apply asap. The previous government created the digital nomad visa, and it is not unforeseeable that the new administration may want to revoke it.
3. Is it ok to overstay my current tourist visa in Brazil while waiting for the Digital Noma Visa to be issued?
We do not recommend it. Although Brazil is customarily tolerant of overstays and there are basis for the immigrant to remain in the country, it is not uncommon for Brazilian immigration to have determinations fining foreign citizens for overstaying. Additionally, overstaying your visa may impact longer-term residency routes, such as the real estate purchase-based residency.
4. What are the fees involved in the Digital Nomad Visa application?
When applying abroad at a Brazilian consulate, the visa fee is less than USD300 in most countries. When applying in Brazil, the visa fee is less than USD50.
5. What other costs will I incur when applying for the Digital Nomad Visa in Brazil?
Other costs incurred are fees to issue criminal records and birth certificate, apostille and sworn translation for the birth certificate, health insurance, and courier fees if applying from Brazil.
6. Once I get the Digital Nomad Visa, will I get a Brazilian ID?
Yes, you will. The Digital Nomad Visa entitles the applicant to get the CRNM – National Migration Registration Card which replaced the RNE card. The Brazilian ID card will be delivered to you upon your registration at a Federal Police Office. Such offices are available in all major Brazilian cities such as Sao Paulo and Rio de Janeiro.
7. Once I get the Digital Nomad Visa, will I get the Brazilian Tax ID known as CPF?
You don't actually need any visa to get the Brazilian tax ID known as CPF.
8. How much time does it take to process the Digital Nomad Visa application in Brazil?
It could take from a couple of weeks to 10 weeks, depending on where you are applying and whether additional documents are asked for by the immigration analyst reviewing your application. Getting the application done by an attorney may help keep the time needed to a minimum.
9. How can I prove my financial capability per the visa requirements?
In our applications we recommend the applicant to present bank statements for the last three months showing at least USD1,500 per month or a single bank statement showing more than USD18,000.
10. Can you file a Brazil Digital Nomad Visa application on my behalf?
Yes, we can handle the entire process on your behalf: from advising on the required documents to actually filing an application with the Brazilian government.
11. I heard Digital Nomad Visas in countries such as Costa Rica and the Czech are better. What do you think?
It is all a matter of preference. Our clients who choose Brazil as their destination are usually not shopping around. They are already settled that Brazil is the only place where they want to stay. Brazil is the 5th largest country in terms of size and the 12th largest economy globally. It is not really comparable to these two countries.
12. I saw you have offices in Sao Paulo and Rio de Janeiro. However, I am in a different city. Can you help?
Yes, we can help you no matter where you are. Our clients are spread across Brazil, the US, and other countries. We offer our consultations done via Zoom, so you can enjoy quality advisory no matter where you are. Today, our firm is the number one option for foreign citizens in need of remote working visas in Brazil.