Getting Apostille in Brazil for Important Brazilian Documents
What is an apostille? Most countries require documents from abroad to be legalized. Apostille is a certificate attesting to the authenticity of a document. Examples of documents that may be apostilled in Brazil: birth certificates, marriage certificates, death certificates, court decisions, and other documents issued by a Brazilian department or authority.
Brazilian documents won't be legally valid in countries such as the US, Germany, Denmark, Hong Kong, Israel, Japan, Netherlands, New Zealand, and Switzerland unless they are apostilled. Apostilles are based on the Convention of Haye, which created the apostille verification system for documents from foreign countries.
We'll tell you everything you need to know about the apostille process in Brazil, what kinds of documents it's necessary for, and more in the sections below.
This page is also available in Portuguese.
When Do You Need an Apostille From Brazil?
As a general rule of thumb, apostilles are necessary when a document from one country has to be used in another country's legal proceedings.
For example, you may be a citizen of Brazil who is seeking residency in a European country like France. In order to get the residency status you want, you may need an apostilled version of your Brazillian birth certificate to prove your identity.
That being said, the specific documents that you need to have apostilled won't depend on Brazil. It will vary based on where you're at in the world and what their legal requirements for foreign documents look like.
Need Apostille from Brazil?




We Can Help You
[email protected]
(214) 432-8100
+55-21-2018-1225
#1  Contact us to get a free quote, or
#2 Schedule a Consultation now.
We Can Apostille These Documents (And More)
To give you a better sense of what we're talking about, here's a list of some of the most common documents that people seek to have apostilled from Brazil:
Marriage certificates
Death certificates
Birth certificates
Naturalization certificates
Education documents
Court decisions
Recorded trade and business documents
Certificates of criminal records
There are other documents that we can help you apostille as well. So don't hesitate to reach out if the document you need help with isn't on this list.
Apostille Document Requirements
If you need to have a Brazillian document apostilled, the main requirement is that the document must be original. You can't create a copy of the original and use that instead. Additionally, the documents must be in good condition and free of alien markings or labels.
If your materials are too faded or difficult for the agent to read, they may not be able to apostille them. But don't worry. If your documents are old and worn, you can always order replacements from the institution that issued them and have those apostilled without any issue.
Certain documents, such as certificates of criminal records, must be recent for obvious reasons. This may also apply to marriage certificates and other documents representing a current status of the people represented in the certificate.
Commonly Asked Questions About Apostille In Brazil
How long does it take to get an apostille?
The amount of time will vary based on how quickly the necessary institution is able to process your documents. But expect to wait up to two weeks to get your apostille in Brazil finished.
How long is an apostille valid?
There are no firm expiration dates on apostilles. Once you have one, the document with it should be legally valid in perpetuity.
That being said, there are some situations in which a country may request a more up-to-date apostille. For example, if the document in question is related to your business and the apostille is more than a decade old, the country may want to ensure the details are still valid.
Can I get an apostille online?
Before the internet, you might've had to go to a government office and wait all day to get your documents apostilled. Nowadays, it's easy to complete this process entirely online without having to spend time waiting in any office.
The process for this can vary from company to company. But you generally will send the documents that you want to be apostilled in the mail. Then you can sit back and relax while the company handles everything for you and sends you back the successfully apostilled documents at the end of the process.
Oliveira Lawyers can help you get all the apostilles you need. Contact us today for a quote and turnaround.
Is there a difference between apostilled and notarized?
Yes, apostilled and notarized are two different kinds of legal verification for documents. Notarized documents are certified for use within the United States. You can only use them domestically.
Apostilled documents, on the other hand, are certified for use outside of the United States. You can use them in legal proceedings throughout the globe.
Can a photocopy be apostilled?
No, you won't be able to apostille your photocopied documents. They need to be original versions. But you can always order new versions of documents that you've lost if necessary. This may just add a little extra time to your legal proceedings.
What if I have a question today?
If you've got a more personalized question about apostille in Brazil, you can reach out to Oliveira Lawyers to get an answer. We're happy to answer all of your questions so that you can get the apostilled documents you need as quickly as possible.
So why wait? Contact us today to get started.
Why Do We Need Apostille in the First Place?
It may not be obvious at first, but if you think it through – why would the authorities of one country accept documents issued by another? It is impossible for national authorities to know if the document they are receiving from a person is legitimate.
The apostille exists exactly to address this challenge. By obtaining an apostille in the country where the document was issued, the authority of another country will be able to check and confirm its authenticity.
Need Apostille from Brazil?




We Can Help You
[email protected]
(214) 432-8100
+55-21-2018-1225
#1  Contact us to get a free quote, or
#2 Schedule a Consultation now.
How Does an Apostille in Brazil Look Like?
An apostille in Brazil is a document containing information about the document being authenticated as well as the steps the Brazilian authority took to confirm its validity and a web verification code (see example below).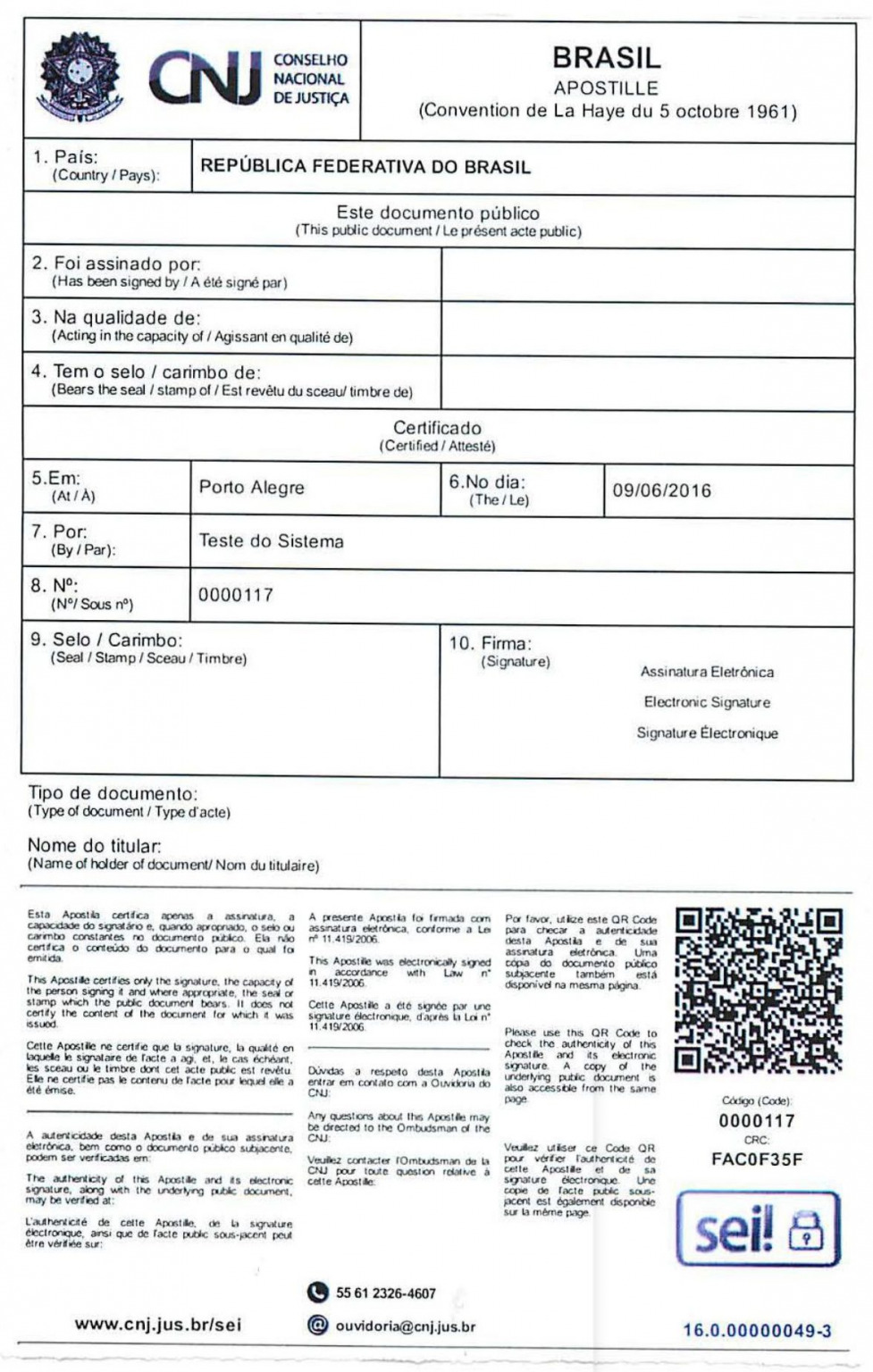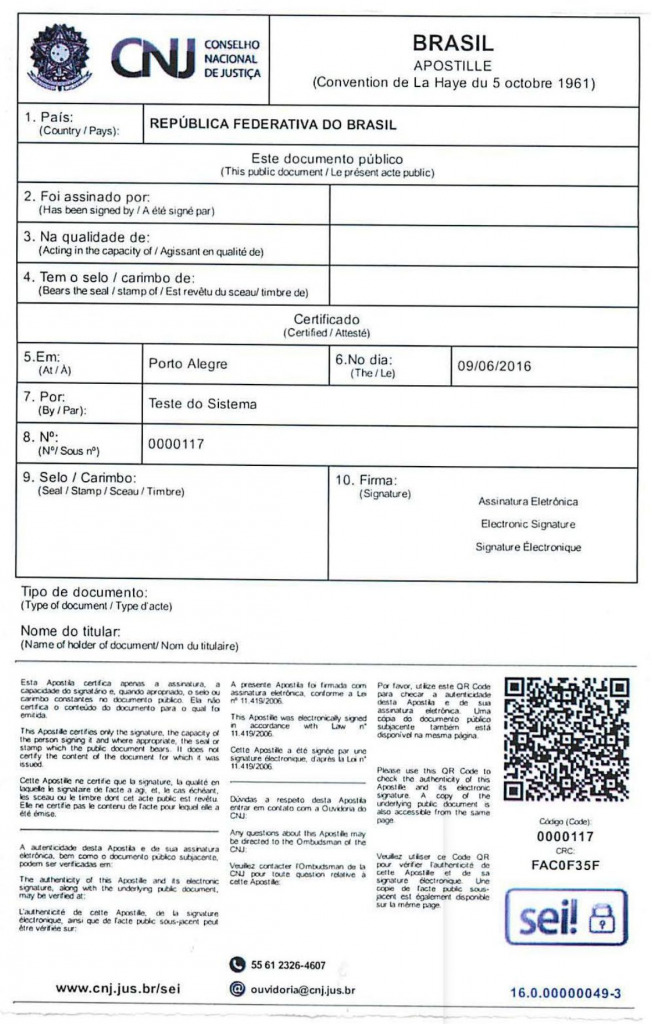 Apostilles in Brazil may be issued by both the government (administration) and the judiciary. The judiciary has delegated such function to the "cartórios" (registries). Today, the cartórios are the main sources of apostille in Brazil.
Need to obtain an apostille for an important document in Brazil?
We can help! Contact us now to get a quote.
Need Apostille from Brazil?




We Can Help You
[email protected]
(214) 432-8100
+55-21-2018-1225
#1  Contact us to get a free quote, or
#2 Schedule a Consultation now.